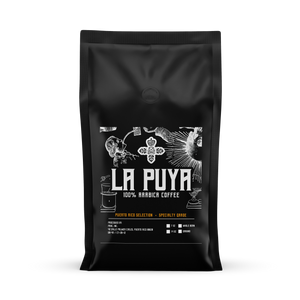 Puerto Rico Coffee Selection
Our limited Puerto Rican specialty coffee for this season is a sun-dried coffee, grown in Finca Kenneth Rivera in barrio Sabana Grande in Utuado, Puerto Rico. ¡Más na'!
It is a medium roast, grown at 1,800 ft using Limaní and Frontón beans - 100% Arabica. You can expect a balanced cup, with an intense chocolate sweetness and low acidity. 
This is our seasonal 100% Puerto Rican coffee that rotates throughout the year, where we feature high quality Arabica beans from some of our favorite farms en la isla. You know what that means: very dope coffee.